Constant dripping hollows the stone
When it comes to the clean cutting of a wide variety of materials, CNC-controlled high-pressure water jet cutting systems are the means of choice. A SINUMERIK 820M/840C plays a decisive role in ensuring that marble, stone and iron are also precisely broken.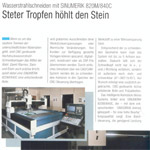 Water against armour plates
With its waterjet cutting machines, Ridder automation technology has established itself in this special field. Now the Westphalian machine builders have built a new large cutting machine.
aus:
Produktion 5.10.2000 Nr. 40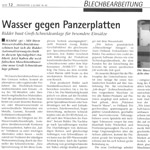 Water for fire fighting is old hat, but water as a processing tool in the production of fire doors is certainly unique in the scope presented by H.G. Ridder. Furthermore, the water jet cutting machine can also be used for milling work.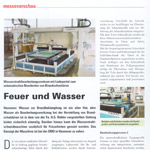 Now it's time for the off-times
The faster the processes, the more important the non-productive times. However, even with comparatively slow processes such as waterjet cutting, non-productive times are becoming increasingly important. Because when a waterjet cutting machine runs three shifts, it makes sense to minimize non-productive time and thus achieve enormous time savings over the course of the year. A caravan manufacturer took this path in all consistency and installed the first waterjet cutting machine with a shuttle table. Since then, parts have been placed on and removed during production time. Shuttle table and part size result in an impressive system with a length of 18 m.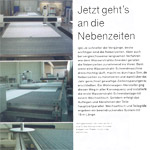 For the automated production of fire doors, Ridder developed a water jet machining center with loading gantry. The special application was individually optimized for the processing of sheet metal and insulation materials.
aus:
Blech Rohre Profile 5/2001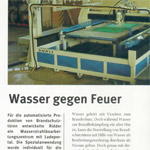 Waterjet cutting allows the cutting of precisely fitting three-dimensional contours. This is an advantage that can be used by apparatus and machine construction companies in particular to create optimum filling or inspection openings in containers of any shape. This does not even require their own waterjet cutting system, because Clever-Cut offers waterjet cutting as a service.
aus:
Blech Rohre Profile 8/2001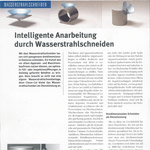 Task-optimized waterjet cutting systems ensure users flexibility, performance and profit.
aus:
Bänder, Bleche, Rohre September 2001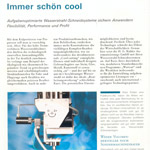 Special model becomes standard
In future, a specially developed water jet system from Ridder will be used by the Austrian fire door manufacturer Novoferm to turn custom-made products into standard items. The result: enormously shortened delivery times and reduced storage costs.
aus:
Fertigung Oktober 2001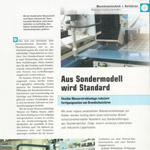 With 3D water jet for high-end sealing
Whoever uses a 3D waterjet cutting system today usually cuts relatively simple contours into complex three-dimensional components. It's completely different at KSD: the company's special seals are made from simple, flat sheets and plates from which complexly shaped sealing parts are cut out with a wide variety of cutting angles.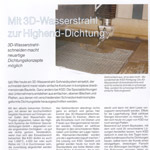 With a sharp beam through thick and thin
Waterjet cutting is particularly suitable for materials that react sensitively to heat input. As the example of the user Aquatec shows, considerable advantages can be achieved with optimized use in the upstream and downstream process chain.
aus:
Industrieanzeiger 17/2005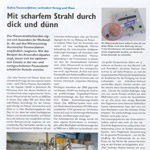 With 4,000 bar through thick and thin
Waterjet cutting is ideal for sheets that are sensitive to the heat input of thermal cutting processes, as is the case with many high-alloy steels. If the process is used correctly, considerable advantages can be achieved in the upstream and downstream process chain. For optimum benefits, close cooperation with experienced specialists is recommended, if possible, as early as the design phase.