Pure water cutting in 2D and 3D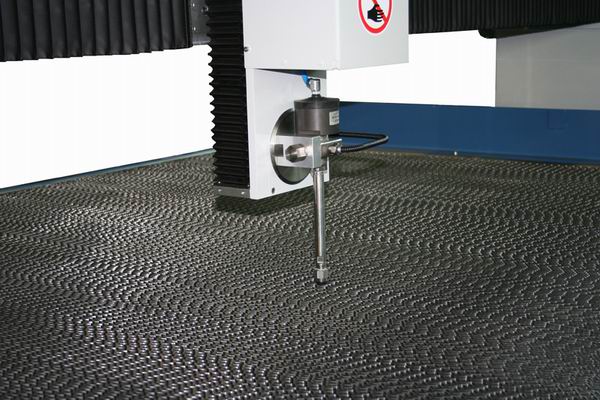 The design of the cutting base is also very important for water jet cutting. Especially for pure water cutting tasks, it is important that as few water jet reflections as possible reach the underside of the material.
Specially for this application case, we have designed a special cutting base which is made of thin, wear-free, stainless steel sheet metal. Thus, it is guaranteed that the water jet does not reflect but is instead distributed on a support plate.
The support has sufficient stability due to the waveform design of individual sheet metal strips combined with straight sheet metal strips.
| Materials | 4000 bar |
| --- | --- |
| Plastics | unknown |
| Foil | unknown |
| Foodstuffs | unknown |
| Rubber | up to 80 mm |
| Textiles | up to 30 mm |
| Leather | up to 30 mm |
| Wood | up to 35 mm |
| Laminates | up to 35 mm |
| Foam | up to 200 mm |
| Cardboard / paper | up to 60 mm |